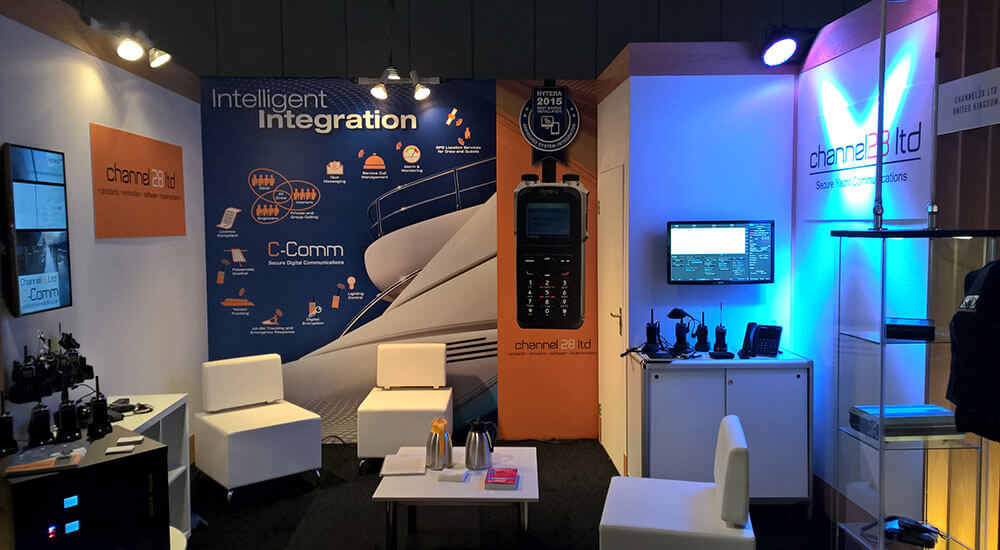 Channel 28 Ltd are in the business of supplying secure digital communications and integrating them into a business or lifestyle. Their products are multi-sector; they are used within the Marine, Medical, Audio Visual and Broadcasting environments. They exhibit at high end marine trade shows and wanted to make a big impact this year.
They approached LW design with a simple brief. 'Our current marketing material is simply not good enough for our cliental, we need your help and advise to improve it'
After reviewing their existing leaflets, business cards and the exhibition specification, LW design created the following products
Exhibition Panel: Design high impact graphic panel artwork and supply as print ready artwork to 3rd party exhibition panel print company overseas,
Showcards: Keeping with the theme, design and print A4 showcards with spot UV for impact.
Business Cards: Design and print quality 600gsm uncoated stock with silver foil elements – cards you only give to those you want to impress.
In addition to this, we supplied SPOT UV matt laminated business cards as a back up
Conclusion
Channel 28 Ltd went to their most recent exhibition armed with quality marketing materials, which they where proud to hand out to potential and existing clients.
The backdrop looks great. Well done! Thanks for your help and patience……
Phil Elwell
Director, Channel 28 Ltd
Hi Lee 

Backdrop – I really like – not what I originally expected but it works.

Thanks for your sterling work before the show to get our printing out in time. I think that Phil sent the picture of the stand which looked great.
Adrian Hicks
Director, Channel 28 Ltd
LW design – 'Your marketing solutions team – on-call'
We are in the business of … identifying, creating and implementing the right marketing solutions which best-suit your business – Giving you the freedom to run it more successfully.