CASE STUDY | BRODIE PLANT GODDARD
Brodie Plant Goddard had a website which they found difficult to maintain. LW design consulted with BPG and convinced them that rebuilding the website using WordPress was the way forward. A mixture of internal content adding and external site development by LW design we enabled BPG to both refresh their online presence and manage their own website, with a little ongoing background support thrown in for peace of mind.
Innovative, forward-thinking practice of Architects and Surveyors
As designers themselves, BPG understood the value of giving time to really work on the development of the website theme, using wireframes to create the page layouts, then work on the design in Photoshop to finalise the theme style and finally bring it all together in the 'live' environment.
We worked closely with the team at BPG, advising, guiding and training them to add content to the website. We continue to offer both hosting and website support in the background, ensuring online business continuity.
During the development process we met BPG to review and organise the website structure enabling them to complete the often difficult task of creating, researching and collating web content.
Along with BPG's branding, we added a new accent colour to liven up the corporate feel. We also created numerous icons to improve the end user experience. The navigation has been reorganised into sectors and services and each staff member has a dedicated page.
The end result is a clean, uncluttered site, which is mobile friendly, easy to navigate and for the client, easy to maintain.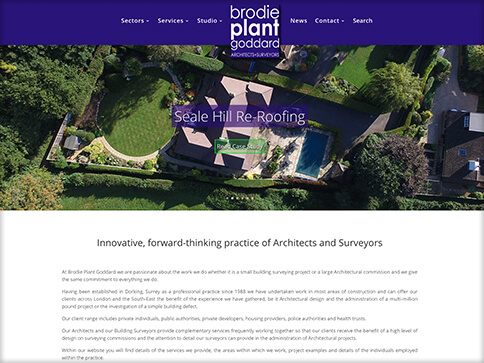 Our website was out-of-date, tired and lackluster and in need of a good shake-up. The team at LW Design guided us through creating something crisper, more polished and clearer to reflect the services we provide. The personal, professional service provided by everyone at LWD was invaluable and they have given us the skills to manage the day-to-day updates ourselves whilst always being there to assist with more detailed revisions and updates.
Diana Botting, Office Manager
LW design – 'Your marketing solutions team – on-call'
We are in the business of identifying, creating and implementing the right marketing solutions which best-suit your business – Giving you the freedom to run it more successfully.
Contact us to discuss your requirements on 01306 876203 or email enquiries@lwdesign.co.uk.
Read some of our case studies to see how positive our customer feedback is. Even if you do not require graphic design, we can provide quality promotional material from your supplied files.