CASE STUDY | DARREN JAMES BYE
As a local and new start up business, Darren popped in to see us at LW design with absolutely no idea how to go about producing a website for his Hairdressing Salon in South Street, Dorking. Through a process of easy to understand 'techno-babble' we set about explaining what was required so that Darren could walk out of our Studio with peace of mind. As a neighbourhood web studio, just like Darren's Salon, we aspire to making the graphic, print and web sector a much more relaxing environment to deal with.
Soak up the relaxing atmosphere
Initially Darren require a simple online presence with the ability to grow the website as his business expanded.
We provided a simple 3 page starter website, branded as Darren James Bye and supported the initial launch of his business with flyers, business cards, appointment cards, posters and promotional items. Following on from this, we have continued to support and assist Darren's business.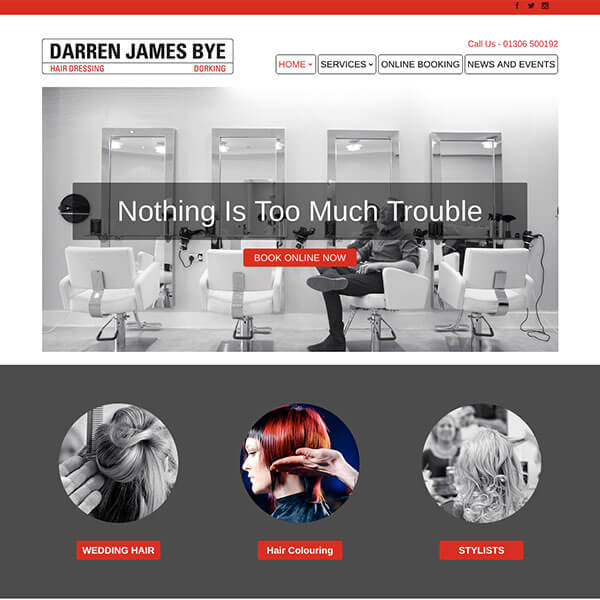 We bring passion and expertise to every project. No matter how large or small the job, we strive to exceed expectations, and provide a first class service. Our customers trust us to deliver on budget, on time, every time.
Lee Wayland, Director
LW design – 'Your marketing solutions team – on-call'
We are in the business of identifying, creating and implementing the right marketing solutions which best-suit your business – Giving you the freedom to run it more successfully.
Contact us to discuss your requirements on 01306 876203 or email enquiries@lwdesign.co.uk.
Read some of our case studies to see how positive our customer feedback is. Even if you do not require graphic design, we can provide quality promotional material from your supplied files.